Wang Lee Hom Making Asian Men Attractive
Wang Lee Hom Making Asian Men Attractive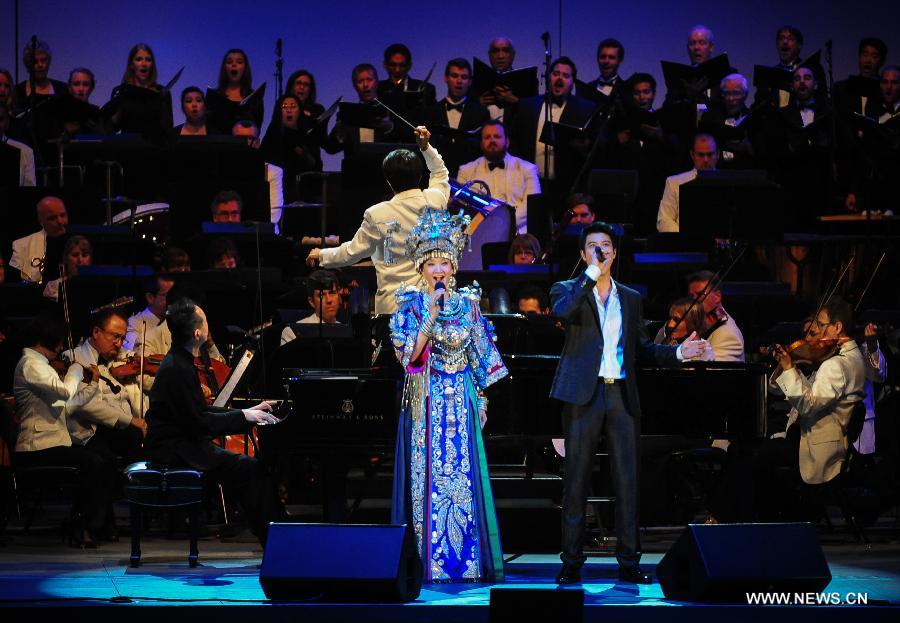 Last weekend I saw Wang Lee Hom perform at the Hollywood Bowl in Los Angeles.
Knowing I love everything Chinese, my aunt bought us tickets to see "An Evening of Chinese Splendor," a Chinese themed performance by the L.A. philharmonic at the Hollywood Bowl.  Zong Zu Ying (a famous communist-like folk singer) and Ruby Chen (pianist) were some of the big names to make it on stage, but there was only one singer that managed to get not only the girls, but the boys in the crowd scream in glee:
Wang Lee Hom.
So who is Wang Lee Hom? I think every non-Chinese person in the audience was wondering just exactly that. I mean, he even made the cover of the Los Angeles Times:
For those of us who have studied Chinese, I'm sure we all know who this pop mega star is. He's the Chinese American who couldn't speak a word of Chinese, went back to his native Taiwan after University and was later recruited by a talent agency. The rest is, well, history. Now he's the biggest pop icon in China (and Asia, really), with both male and female fans that swoon and scream at the sight of his face.
He not only sings, but he's performed in and directed various films, the most famous being Ang Lee's "Lust, Caution" (yes, he was the wimpy anti-Japanese rebel guy in the movie).
With over 25 albums, 4 movie awards, and countless concerts performed to date, Wang Lee Hom has become a household name across Asia.
But Can He Impress American Chicks?

Wang Lee Hom's stop in California includes more than just performing on the musical stage. He's starring in Michael Mann's next big film, and he was working with famed pop star DJ Aviici on making a new album!
If Wang Lee Hom were to star in a big blockbuster film–that DIDN'T suck–could he *actually* become famous in the states?  Could he quite possibly become the first Asian male celebrity to grace the big screen?  And more importantly, a celebrity that breaks our current Asian stereotype of the middle-aged, kung-fu master (aka, Jackie Chan)?
My Chinese male friends often ask me why Asian males aren't a popular choice among the ladies, and I honestly think its due to the media. There are good looking Asian males (take a look at Wang Lee Hom! and Takeshi Kaneshiro!), but the stereotypes tacked on the Asian male and their lack of big Hollywood or media roles makes it difficult for women here in the west to think of them as anything but bookworms or introverted weirdos. In the west, the word "hunk" is usually associated with stars that have wowed us time and time again in movies and TV shows throughout the years (Tom Cruise, Brad Pitt, etc..).  Sadly, we have yet to see an Asian actor pull a mission impossible, save the world, and score the ladies James Bond style.
The Los Angeles Times posed an interesting question: Can Wang Lee Hom really expand across the Pacific and stretch his career to the United States? To some this seems near impossible, seeing that all of his songs are in Chinese and his music is very much Asian pop (something many of the young kids here wouldn't dig).
But his presence at the Hollywood Bowl is a big step forward toward western media, and if he were to take the main role in a blockbuster movie that made it big–it could change everything–because Wang Lee Hom has the best of both worlds: Chinese values with an American upbringing.
And man, with a face that good looking I think he has what it takes to give Asian men a good name in the states.
Proud to be Chinese
In China, it doesn't take long to become jaded.
The rivers and water supply are so polluted my hair fell out, the food is so contaminated I had diarrhea on a weekly basis, and there's so much corruption and censorship that obscenities were flying from my mouth every time I tried to surf the net. Chinese people constantly told me what an awful place China is, and how they would gladly flee to the United States if they had the opportunity. My Chinese friends scoffed at China and, in their eyes, western countries (and even Japan) were much more advanced and civilized than they could ever be.
Coming to China was one of my dreams, but for many of my friends that I met in China theirs was just the opposite–getting the hell out.
In those moments I started to doubt and wonder about just what I was doing.
Was the China I dreamed of just a facade?
Listening to Wang Lee Hom reminded me of why I started studying Chinese in the first place. I remember practicing the tones all by myself in my room, writing character after character in practice, and ordering food in Chinese at restaurants whenever I had the chance. I wanted to see The Great Wall, the Yangtze, the Bund–basically, I wanted to become a part of China. I wanted to speak, eat and live like the locals.
I remember listening to Wang Lee Hom while studying for my Chinese exams with such fervor and passion with only one thing in my mind: Going to China.
Now that I've been there and back, I don't regret a thing. Yeah, there was bad, but the good of China far outweighed it.
As Wang Lee Hom so elegantly said:
"The first song I released in Asia is 'Long de Chuan Ren' which literally means descendants of the dragon. I am proud of who I am and my heritage, and I want everyone to know who we are!"
As Wang Lee Hom performed "Descendants of the Dragon," I sang along with the throngs of Chinese people in the audience.
I may not *physically* be a descendant of the dragon, but China and its people have forever captured me.
Like Wang Lee Hom did for me, I hope he can keep promoting the good about China. Like me, he worked hard to discover China, and he found it in his culture and heritage.
I hope through him, America can learn and understand more about just what it means to be Chinese, and what China is.