The Best Fall Foliage in Japan
The Best Fall Foliage in Japan
Winter is Coming
November whizzed by in the blink of an eye, and it's already the third day of December.  It may be a little too late to talk about fall foliage in Japan, but after seeing all the amazing fall photos posted by my friends in Japan on Facebook, I just had to get in on the action.
I'd also like to mention that seeing fall foliage in Japan was, quite frankly, one of the highlights of my life.  There are some things that are best done in Japan, such as eating fresh sushi or viewing cherry blossoms, and I have to say seeing the fall leaves should rank at the top of that list.
In my opinion, the best time to go to Japan is not during the spring to see cherry blossoms; but rather, during the fall when leaves are painted blood red, sunset orange and a golden yellow.  There is nothing else like in the world.  It should be on everyone's bucket list.
Although it may be too late to visit these spots this year, I wanted to introduce my favorite spots for viewing the fall foliage of Japan.
First Off, Where Not To Go
Kyoto is regarded as one of the best spots to see fall foliage…
…that is, if you like to be sandwiched between a sea of people.
While the fall leaves in Kyoto do turn spectacular colors and the backdrop of some of Japan's most famous temples create some picture perfect photos, I  think the crowds (and prices) make it more of a hassle than a hidden treasure.
In other words, avoid Kyoto and try going somewhere else.

Try somewhere like…
The Hokuriku/Alps Area
I know, I rant about Niigata on here more than I should, but I truly feel it is an under appreciated prefecture and deserves more attention.
I saw fall foliage in Kyoto, Nagano, Himeji, Toyama–and none of the colors there even came close to what I witnessed in Nagaoka city in Niigata prefecture.
Most of the Hokuriku area in Japan has some stunning fall foliage scenes, with Niigata as a local favorite of mine.  Nearby Nagano prefecture has Kamikochi national park, which blends fall hues and mountain landscapes beautifully together to give you some truly stunning scenery.
But my absolute, favorite place for fall foliage in Japan?
Kurobe Valley in Toyama Prefecture
This place is what fairy tales are made of.  The red bridge connects the outside world of Japan into the inner valleys of Kurobe, a true tribute to nature and a sanctuary of trees, bubbling brooks and towering mountains.
While the leaf colors here don't dazzle as much as Niigata, the overall landscape composition is mind blowing.  The translucent water, powdered snow sprinkled on top of the mountains like sugar on a cake, and the rain of golden leaves as they retreat into their winter slumber are all symbols of Japan's changing seasons.
This vacation was also quite memorable because I went with my favorite teachers at the time.  Although I suffered immensely from loneliness when I lived in the countryside of Japan, there were a few teachers that reached out to me as more than just a foreigner in distress or a lonely gaijin: They saw me as a friend.
The vice-principal was one of the few Japanese teachers that talked to me not as "that American teacher," but just as Mary.  Halfway through his term as vice-principal, he left the school due to an "illness."  When I asked him about it during this trip, he went into detail about the overwhelming pressures of Japanese society and how he was crumbling under the system, mentally.   He was one of the few, and brave, Japanese men I met that put his health–and his family's–above his job.  I was touched that he opened up to me about such a sensitive topic, and talked to me as a friend rather than a foreigner in a strange land.
Anyway, Kurobe Valley can only be accessed via the train that runs on the red bridge above.  The train is very old school, which means no heating and–yes–no windows.  This gives better access to the views outside, but definitely makes the ride a wee bit drafty (thus the vice-principal and I up there are holding Japan's archaic heating method, the hot pad hokairo).
This wasn't the last trip I went on with the above trio.  We also explored various parks in Toyama and Nagano, toured the Christmas lights in Karuizawa Japan, and had countless dinners together.  Even today, the memory of them remain deep in my heart.  I hope somehow, someway, I can see them again.
I know, too much reminiscing.
While the leaves aren't as crimson as Niigata, the impeccable outline of the maple leaves in Toyama (momiji) and its cascade of fall hues will leave you in awe of Japan's beauty.
In Japan, the seasons bring more than just a change of weather.   The food, the scenery, the customs and even everyday life changes according to the time of the year.
To me, fall in Japan was the end to the relenting humidity of summer.  Fall was a draft of fresh air that painted the trees in warm colors of harvest.  Fall meant that it was time to bring the kotatsu (heated table) out from the closet and prepped for use.  Fall i sthe season to munch on Japan's juicy tangerines (mikan) after sipping on an ice-cold, autumn flavored Asahi beer.  Fall meant it was time to dust off the sweaters, the mittens, the scarves and bring out the coat for the upcoming winter.
Whether you're going to Kurobe Valley in Toyama prefecture or simply exploring a small park full of trees in Tokyo, fall foliage needs in Japan is a definite must on any traveler's list.
And with the yen hitting record lows (180 JPY to the  dollar!) now has never been a better time to go.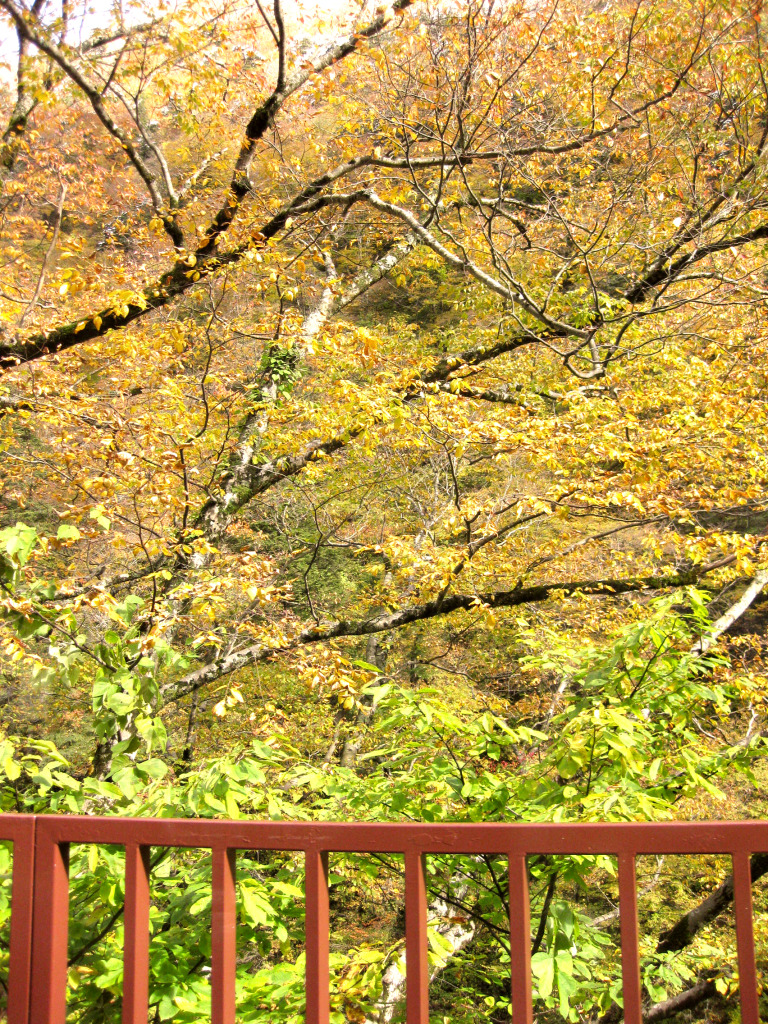 Although my relationship with Japan is complicated, there is no doubt in my heart that I love that country–with fall being my personal favorite.