Cat Island, Gardens and Udon in Takamatsu, Shikoku
Cat Island, Gardens and Udon in Takamatsu, Shikoku
I stepped off the train platform at Takamatsu station, awash in nostalgia.  Five years ago I found myself at this very same bus and train station housed in the city's harbor.  I was struck first by the smell of crisp and raw ocean air washing over me.  The brilliant blue sky reflected the ocean surrounding the island.  Unlike the streets of Tokyo, the people here walked at a slower pace, a smile on their face, with a peaceful calm floating over the city.
I was so grateful to return to one of Japan's most charming small cities: Takamatsu.
I headed toward the exit to the station, my heart giddy with excitement.  I was meeting an old college friend here, a fellow Japanese language nerd and traveler who, unlike me, decided to stay in Japan while I moved to China.  He has lived in Takamatsu for 7 years now, and although I had been here before, I wanted to catch up with him and see more of a city that has managed to capture his heart for almost a decade.
It was hard to miss my friend at the train station; on top of his 6 foot stature and bright red hair, he was the only foreigner on the premises.  After he gave me a bear hug, he clapped me on the back and said: "let me show you my city… and get you a beer."
Takawhere?  What's Shikoku?
Shikoku is Japan's second largest island (next to Hokkaido), and surprisingly, the 50th largest island in the world.  The name Shikoku (四国) literally means "four countries," but it actually stands for the four provinces in the prefecture: Ehime, Kagawa, Kochi and Tokushima.  Takamatsu is in Kagawa.
Shikoku was always known as the "rough and tough" back lands of Japan.  Until this previous decade, getting to Shikoku meant riding a dinky fishing boat for three hours to reach shore.  Now, with three bridges connecting Honshu (the main island) to Shikoku, it's easy to get to Shikoku by bus or train from Osaka.
Compared to the main island and other cities (such as Kyoto and Tokyo), Shikoku doesn't get much tourism; but perhaps, this is a blessing in disguise.  This island is truly an undiscovered gem.  Shikoku has the famous art island Naoshima, Dogo Onsen (hot spring) the oldest hot spring in Japan; the traditional homes and villages of Tokushima prefecture hidden in the mountains and an 88 stop pilgrimage that encircles the whole island… and that's just scratching the surface.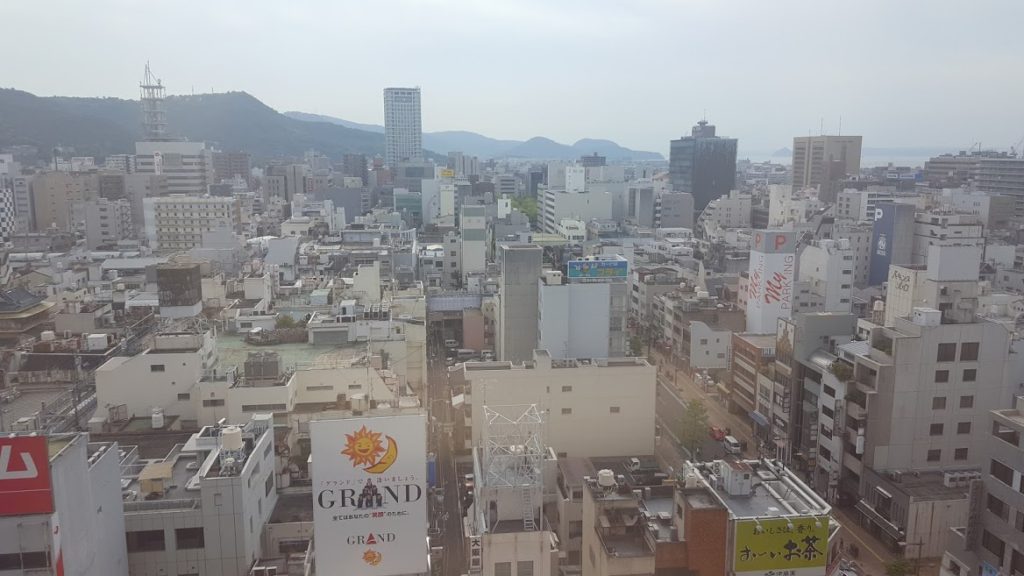 Takamatsu City is the capital of Kagawa province and the largest city in Shikoku.  When I say large, I mean there are only 400,000 people living there.  Still, the city is big enough to have your everyday amenities, yet manages to keep that local, small-town coziness.  Takamatsu also has more sunshine than anywhere else in Japan, and although it does get cold in the winter, it never snows here.
Ritsurin Park
After my arrival at the train station (and I mean right after), D took us to the city's most famous tourist attraction: Ritsurin Park, one of Japan's top three gardens.
I won't bore you with writing about it, just look at the photos: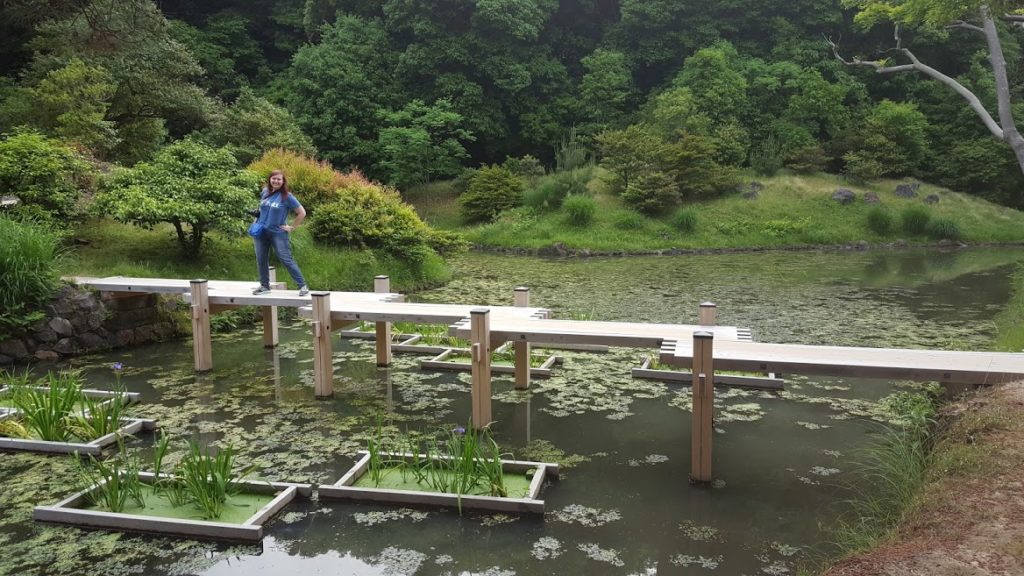 Even five years ago, the park was still just as beautiful:
Although we dashed through the park, one could easily spend an entire afternoon here.  The seasons also matter in this park, with spring bringing cherry blossoms and autumn displaying a palette of harvest colors.
Udon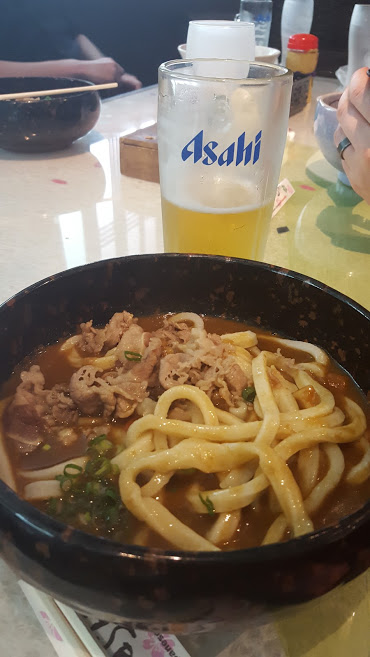 Shikoku, particularly Takamatsu, is famous for Udon (thick noodles made of flour).  Udon is known as "the working man's" food, so paying an exorbitant amount of money for udon is kind of ridiculous (don't pay more than 10 bucks for a bowl!).  Going to any one of these places is sure to be delicious.
After the garden and udon, my friend nudged me for a night of karaoke.
After two years in Japan and three in China, my karaoke skills have me grabbing me the microphone and singing cheesy U.S./UK songs like no other (Bon Jovi, anyone?).  My friend D, with seven years under his belt, is hardcore.  He has a karaoke memo book and sings like a champ.  With a bottle of whiskey in one hand and a microphone in the other, we sang the night away.
Ogre Island (Onishima)

The next morning I was hungover to hell (note to self: you are too old for whiskey).  Despite the headache, I told myself that I was 21 again, dragged myself out of bed, splashed cold water on my face and grabbed a cup of coffee to face the day.
Shikoku is surrounded by tons of tiny islands, which basically means it's never boring.  You could spend an entire day–or week–just island hopping alone.  Some islands, like Naoshima, have so much to see that you might even need to spend the night there!
Our first stop of the day was ogre island (onishima 鬼島) which, legend has it, was occupied by ogres/demons way back in ancient Japan.  The island makes an appearance in the Japanese fairy tale Momotaro, which is the equivalent of King Arthur or Davey Crockett.  The caves here were hideaways for pirates later on, but now houses a bunch of modern art and cheesy demon statues.
Oh yes, every three years the Shikoku islands host an art festival called the Setouchi Triennale, where artists display their contemporary art creations across the different islands.  Like so: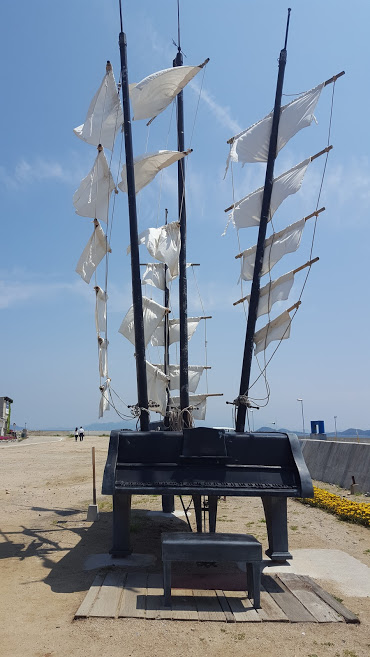 My favorite part of the island, though, was the view. The Seto inlet is truly stunning.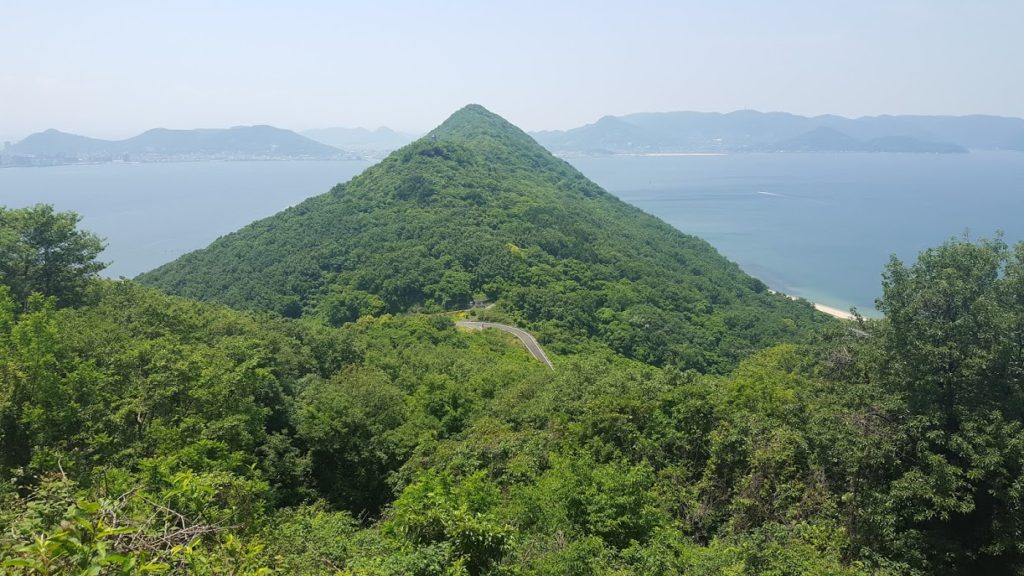 Cat Island (Aoshima)
We've all heard about the cat islands in Japan–you know, uninhabited islands run amok with cats?  I never thought I would actually go to one, but when D said that was the next island on our stop, I was pretty excited.
I was expecting this, but when we got to the island we saw this:
We had to go hunting for the cats.  I don't know if it was the heat, if it was nap time, or the throngs of tourists scared all the cats away–but in the end, it wasn't as cat infested as the youtube videos led me to believe.  Still, we spotted a few litters of kitties lying about.  Most of them were very ragged and worn, mostly because it's a cat-eat-cat world on the island.  With only 4 people living here (and over 200 cats), it's hard to take care of every single animal.  In fact, there were signs that said "please do not feed the cats, because if they populate then we just can't handle taking care of them."  Kind of cruel, but that's life.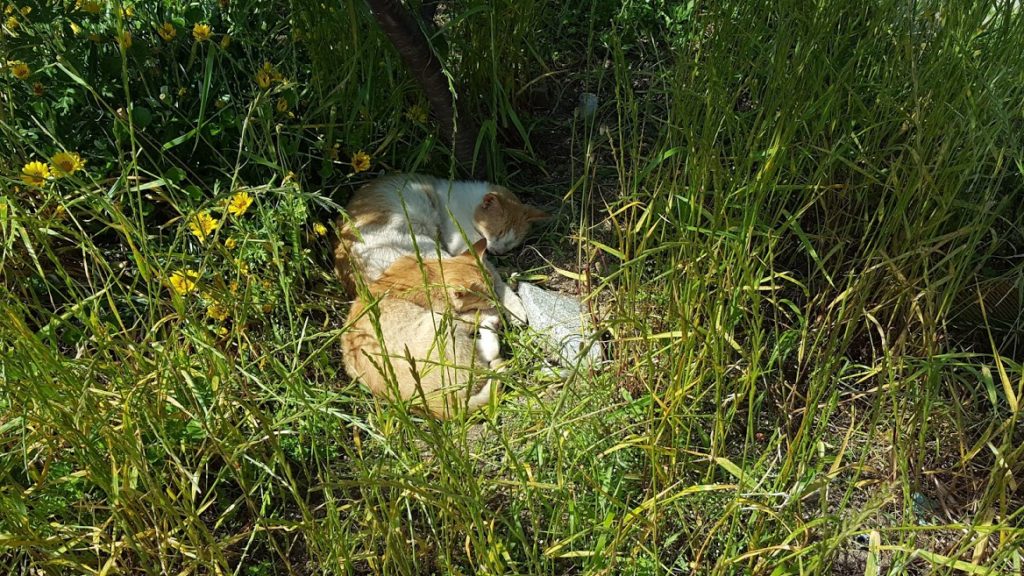 Surprisingly, however, when Aoshima sent a plea to the world for cat food to help the cat population, their request was filled in a matter of days.  See, the world does love cats!
Although cat island was lacking in, well, cats, it was still a charming and worthwhile visit.  It was a glimpse into what old Japan looks like.  Exploring the island was like setting foot in time 100 years ago, to rice paper doors and tiled roofs and into the life of a small fishing community that disappeared during the rise of industry.  It's an intact piece of a Japan that is slowly fading away with an aging population and a downtrodden economy.  It's sad, but beautiful… it symbolizes the transience of things.  Mono no aware.
Goodbye Takamatsu, You Were My Favorite of the Bunch

I went to a ton of places in Japan this time around, and I have to say that Takamatsu was my favorite (or a close second to Kumano Kodo, which I'll write about later!).
Unlike Tokyo and Kyoto, there are no throngs of tourists here.  In fact, you'll most likely be the only foreigners around.  The people here are the nicest I've met in all of Japan, and even if they don't speak English they will proactively help you with directions or guidance.  This city by the sea has a local charm that makes it feel like home.
"I can see why you've been here for 7 years," I said to D.
"Sometimes I think maybe I should go back to the states," he said to me.  "Maybe I've been here too long."
"Don't do it," I looked him in the eye, then looked back to the sea from our boat. "I used to wonder why and how you could stay here for so long, but after living around the world and coming back here I now realize why you can't leave.  This is a special place…. the kind of place I've been looking for my whole life.  Don't let it go."
If I could move to Takamatsu, I probably would.  It's that good.
Travel Tips!
Getting There
Train: From Tokyo to Takamatsu, it's a quite the ride– about 5 hours, to be exact.  If you have a Japan Rail Pass, I do recommend taking this route.  Take the bullet train from Tokyo to Okayama, then take the Marine Skyliner to Takamatsu–and that's it.  Easy eh?  Use google maps or Hyperdia if in doubt!
Bus: Hourly buses from Osaka can get you to Takamatsu in a jiffy (1-2 hours)!
Plane: With JAL or ANA, you can pay a set $100 fee to buy a flight anywhere in Japan upon landing in the country, with proof of your Japan ticket (and it can be with any airline).  You could use this route to fly to Takamatsu from Tokyo, a one hour journey.
If flying from China, Spring Airlines has some pretty damn cheap flights into Takamatsu airport from Shanghai (you can get a ticket for 50-70 bucks!).  If you're in Asia and looking for a short holiday, then I recommend Takamatsu 100 times over.  Less tourists, less money, and more fun!
Accommodations
Unlike Tokyo and Kyoto, Shikoku does not have a wealth of airbnb housing (this was the only leg of my trip where I didn't stay at an airbnb).
I stayed in a single room in a hostel called Traditional Apartment.  It's a cozy place with an English speaking owner, a hip bar and lobby, but very aged and worn rooms.  The rooms are traditional tatami style (get ready to sleep on the floor!), but they do come equipped with private kitchen and toilet.  Shower is shared.
Business hotels in Shikoku, like Dormy Inn, are also quite affordable and in the downtown area.  The rooms are smaller, but you'll get your own private room/bath/toilet and free breakfast.
Getting Around
The Japan Rail Pass doesn't work here, since it's not JR lines, so you'll have to pay your way for tickets (1-2 dollars for one way tickets around the city).  Shikoku is quite accessible by foot, so if you stay near the train station  or downtown, you probably won't even need the train.  You can even rent a bike at the train station (the cheapest place to rent, only 2 bucks per day) and ride it around the city!
For island hopping, go to the ferry station.  The further the island, the higher the fare.  Going to Oni Island (since it was close) was only 5 bucks one way.  Going from Oni Island to Cat Island was 3 bucks, and getting back from Cat Island to Takamatsu was about 7 bucks (since it's further).  It's quite affordable with no need to book in advance.
Tourist Information
The Shikoku Board of Tourism has some pretty helpful information, such as day plans, maps & brochures, transportation info and more.  Japan-Guide also has some good tips for what to do in the city.
Shikoku has a special place in my heart–and I have no doubt I will be back.